slider-burger-challenge
Take Pennsylvania's — and possibly the world's
slider-beer-spirits
& A Large Selection of Spirits
slider-six-pack-shop
Create Your Own Craft Beer Six Pack!
Create Your Own Craft Beer Six Pack!
While our two pound burgers are what bring people in, the quality of our daily food is what keeps them coming back. Our menu offers more than just burgers and includes more than 46 different types of wings and several delicious appetizers that are sure to satisfy any appetite.
Denny's Beer Barrel Grab and Go Catering is perfect for your next special event, party or business lunch. How does it work? Call us to place your order (24 hours in advance), we'll have it ready for you to pick up. Our Half and Full Trays feature your favorite sandwiches, entrees and sides.
Home of the two pound burger challenge, Denny's Beer Barrel Pub is located just off Interstate 80 in Clearfield, PA. If you are traveling through central Pennsylvania, make sure to stop in for a burger, a local brew! Click for contact information, business hours and to get directions.
The Goal: Massive Hamburgers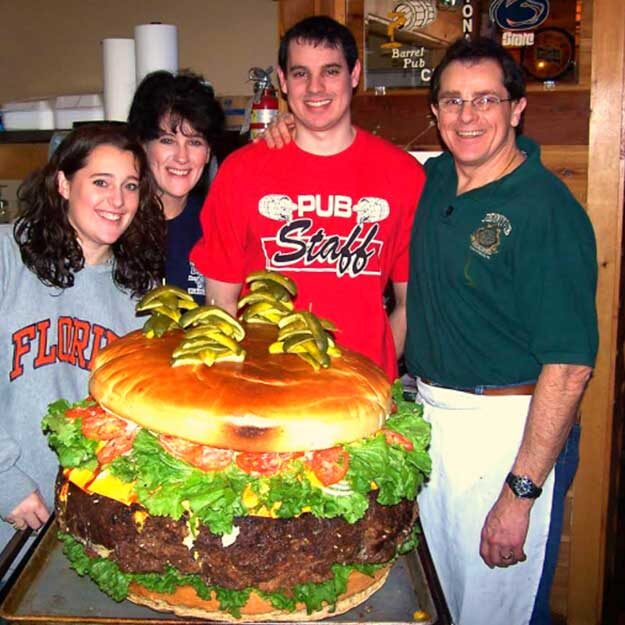 It all started in September 1977. Denny Liegey started a business with the goal of making massive hamburgers to attract attention to their impressive menu and create a fun atmosphere that would make patrons from across the country want to return.
While our two pound burgers are what bring people in, the quality of our daily food is what keeps them coming back. Our menu offers more than just burgers and includes more than 46 different types of wings and several delicious appetizers that are sure to satisfy any appetite. Be sure to wash your food down with one our more than 40 beers on tap including more than 20 craft and local brews.
Read More >>>